Writing emails is everyone's business nowadays, as it remains one of the primary communication methods on the Internet. However, it is common that the real value of our work is not provided by the mail itself, but for other productive tasks. The result is that we usually get rid of our inbox as fast as we can.
This situation leads sometimes to poorly written emails where grammar corrector integrated in Microsoft Outlook gets handy. However, there is another caveat we usually do when writing fast emails without properly proof-reading them: word duplication. For example:
I'll bring you the reports they requested so you can have them checked, you know how important these reports are for the next week meeting.
The sentence is correct, but maybe it would sound better if instead using reports for second time, we use documents. Right? That's what Dedup is about.
What is it Dedup?
Dedup is a Microsoft Office add-in that works with Outlook. It analyzes the text of an email message, finding words that are repeated with a short, configurable, distance between them.
Dedup will never modify your email message. It only requires read-only permissions to the message you are currently viewing or editing.
Usage


Usage is way simple: it sits as a button in Microsoft Outlook ribbon or the Outlook Web App client and analyzes the text as soon as you click it.
Dedup from Outlook Web App: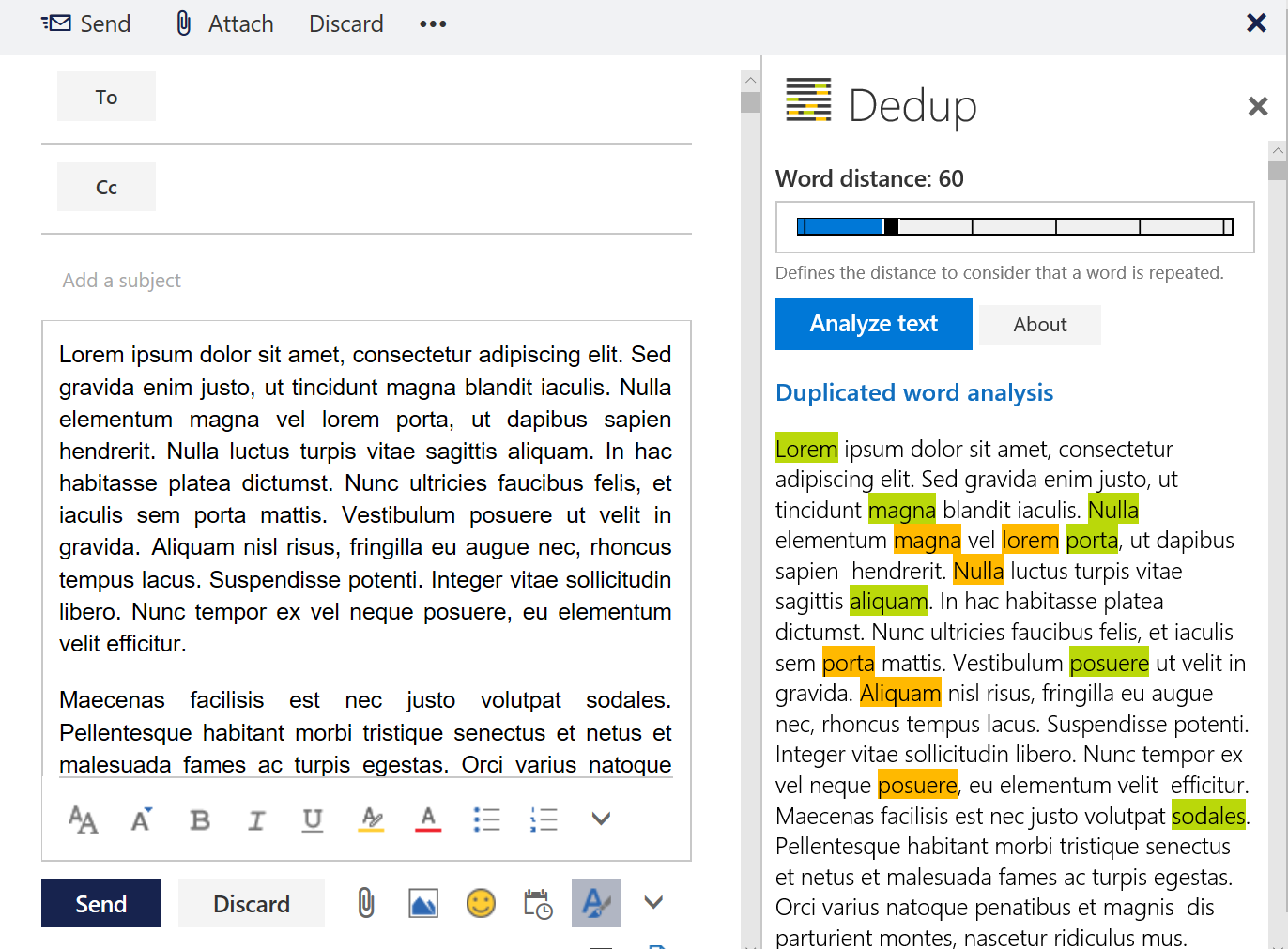 Dedup from Outlook 2016: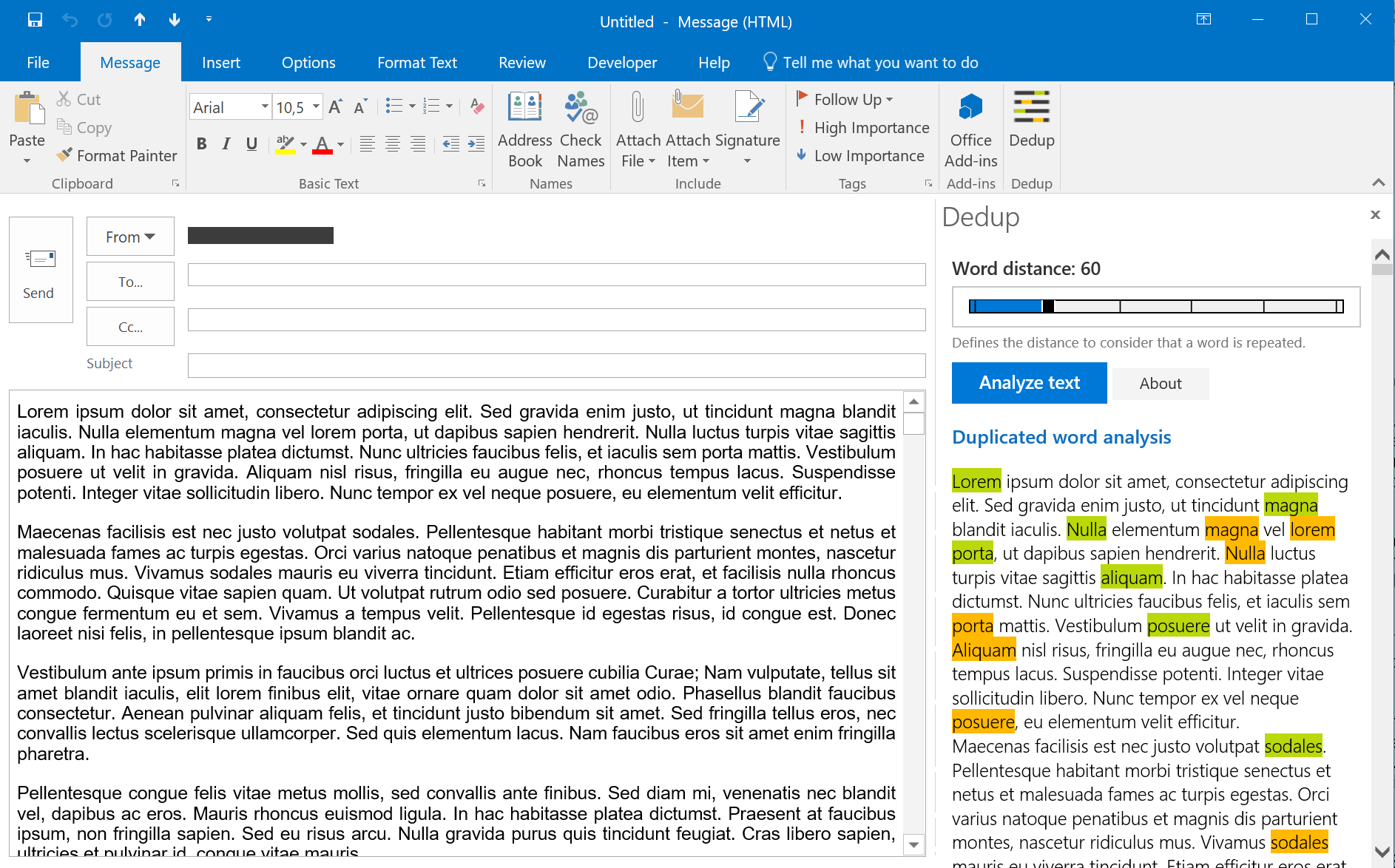 The add-in can be used in the following platforms:
Windows:

Microsoft Outlook 2013 SP1.
Microsoft Outlook 2016 (tested).

MacOS:

Microsoft Outlook 2016 for Mac.

Outlook Web App under a supported web browser, tested in:

Microsoft Internet Explorer 11
Microsoft Edge (latest version)
Mozilla Firefox (latest version)
Google Chrome (latest version)
Privacy policy
Add-in permissions
Dedup requires Read item permissions in your Exchange or Office 365 mailbox. When you click this add-in, it will be able to read the data in the selected message, such as the body, subject, sender, recipients, email addresses, and attachment information. Other items in your mailbox won't be read or modified.
Collection and Use of Your Information
Dedop does not collect personal information in any way. It will scan the selected email for duplicated words and show them in a side window. This scan is performed on your own computer by the add-in code, so the mail message won't be sent over the network.
Dedup collects by default anonymous, non personal, telemetry data points about the use, connectivity, configuration, reliability, and performance of the App (e.g., how often the app is opened, which app functions are used, the number and types of errors encountered, etc.). This information is not used to identify, contact, or target advertising to you. Telemetry information is collected by Microsoft Application Insights service, provided by Microsoft Corporation, One Microsoft Way, Redmond, WA 98052-6399, USA ("Microsoft").
Application Insights details can be reviewed https://docs.microsoft.com/en-us/azure/application-insights/app-insights-data-retention-privacy.
Further information from Microsoft about privacy and Azure can be found http://azure.microsoft.com/de-de/support/trust-center/privacy/.
You can disable telemetry and information collection by following the guidelines in the next section.
Disable telemetry
The user can disable telemetry information anytime from the add-in and re-enable it later if you change your mind.
Please, notice that telemetry information is anonymous and intended to improve the application and your experience using it.
If you want to disable telemetry:
Analyze any message by pressing the add-in button.
Click the About button.
Uncheck Enable anonymous telemetry.
Click Save and close.
The settings will be saved to your mailbox and you won't need to change it again.